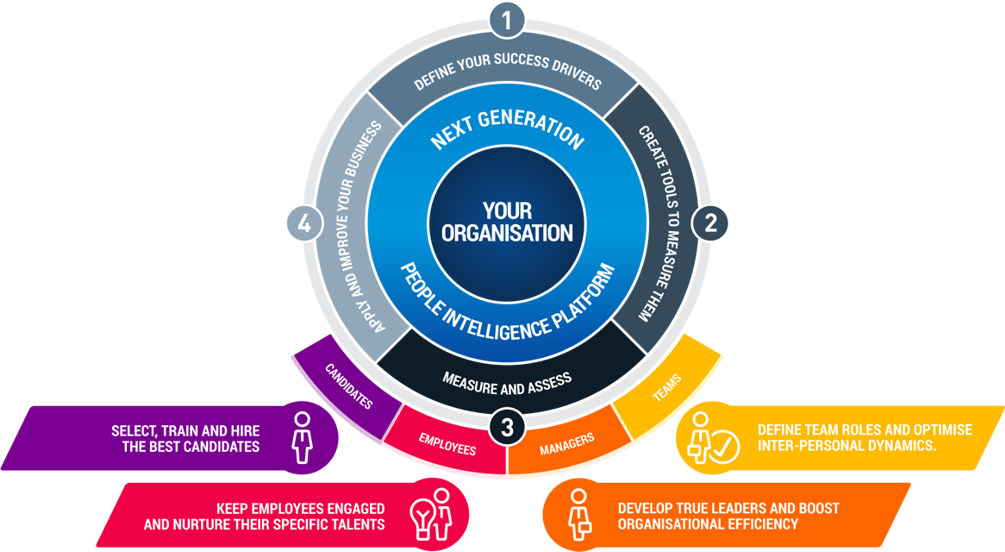 Define Your Success Drivers
Employees make companies successful.
But finding and selecting the right ones isn't always easy.
The first step towards an improved workforce lies in identifying what it is exactly that makes your company stand out from the rest. Find that out and you'll also know what you need to look for in others.
We can help you detect and define your success predictors.
No two companies are the same. What works best for a multinational corporation may not hold up in an enterprising start-up. Luckily, our platform can easily be customized to fit the exact needs of its users. You can either choose from our wide variety of available assessment and development solutions or you can request new dimensions tailored to your particular requirements.
For more details on our tools and how to customize them,
don't hesitate to contact us.
We've strived to make our assessment process as simple and intuitive as possible. Our dedicated team will set up an online account and walk you through the process of creating job profiles and sending out invitations to candidates. At the end, we'll provide you with easy-to-understand results that can be successfully interpreted by readers with no technical background.
Feel free to drop us a line if you want to know more about our assessment process.
Apply And Improve Your Business
From making informed hiring decisions to maximizing
the potential of each individual and team,
the extensive reports provided by the GR8PI platform are an invaluable tool for any organization looking to improve itself.
Whether as a standalone tool or used in tandem with your existing systems,
there is no better way to make the most out of your greatest asset – your employees.
Contact us in order to see how you can stand to benefit from our platform.
Powerful Employee Assessment & Development Software Anyone Can Use!